Weld mesh gabions are manufactured from cold drawn steel wire electrically welded together. The wire is S.S. , Hot Dip Galvanised or Alu-Zinc coated, ensuring a longer life. The meshes can then be polymer coated against corrosion and other weathering effects when used in salty and highly polluted environments.
Gabion sizes:
1x1x1m welded gabion
1.5x0.5x0.5m gabion
1.5x1x1m gabion
2x1x1m gabion
500x500x500mm (Isreal)
Others.

Steel mesh size 1/2", 3/4", 1", 1 X 1/2", others.
Galfan gabions of welded mesh size: 3mm, 4mm, 5mm, others.
Coatings:
Hot dip zinc coated;
Electro galvanized;
Plastic / polyester coated green, black, grey;
Galfan.
American Standard Welded Wire Mesh Gabions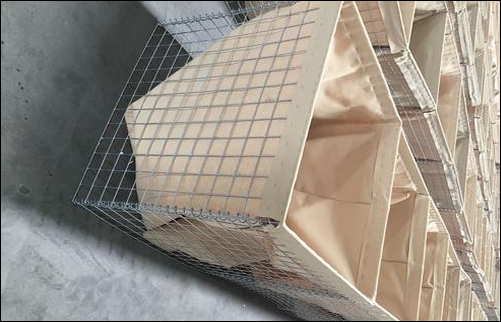 Galvanized wire mesh gabions, welded in sizes: 3'x3'x6' , 3'x3'x12', 18"x 32"
Mesh type: Square Hole
Galvanzing: Hot dip zinc galvanized
With door on the 18" side.
Standard: American standard
Gabion boxes 3'x3'x4' of welded wire sheet
Container cages of hot dipped galvanized welded mesh grid
Rock Gabions with nonwoven fabric and mesh fabric, USA standard

Galvanized Welded Gabion Box
To Jordan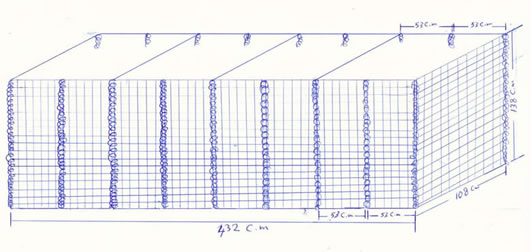 Galvanized welded box gabions
Size 432 cm x 108 cm x 138 cm
Mesh 7.5 x7.5 cm net
Diameter of wire 4 mm
Tensile strength 650
with covering fabric inside box
Basket Gabions Units Binding by Lacing Wire, Fixing with Clips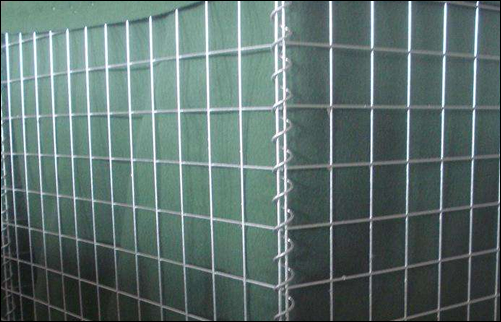 2.0m x 1.0m x 1.0m weldmesh gabion baskets with central partition,
meeting England standard:
Gabion units shall be fabricated from electrically welded mesh panels compliant with bs en 10218-2 bs en 10244-2
Welded mesh size shall be 762mm x 762mm x 3mm nominal wire diameter
Welded mesh wires shall have a tensile strength in the range 540-770 n/mm2, steel grade 0.10% arbon max, weld shear strength shall be a minimum 75% of the tensile strength of the wire
Corrosion protection to welded mesh panels lacing wire shall be tripple life galfan coating(95% zinc, 5% aluminium)
Gabion units factory assembled with stainless steel
clips
connecting side panels diaphragms to the base panel
Gabion units provided with
lacing wire
for site assembly, and lacing wire minimum wire 2.2mm for final jointing.
Cross-ties provided at 1m maximum horizontal centres before filling: the cross-ties shall comprise either internal welded mesh diaphragms or a double thickness of lacing wire positioned at mid-height
Adjacent gabion units jointed by continuous lacing across the joints at the front rear faces. The lids shall be wired down on all joints across the diaphragms
Gabion flll shall be hard, durable non frost susceptible rock the fill shall be graded 100-200mm, with 90% being retained on a 100mm diameter ring
The fill shall be carefully packed to minimize voids distortion of the gabion unit.